A few decades ago, having an eco-friendly wedding would have been almost impossible. There weren't very many eco-friendly wedding venues, wedding favors and flowers to choose from. However today, it is perfectly possible to have a fun and eco-friendly wedding without having to walk down the isle in a wedding gown made of leaves and feathers.
Eco-Friendly Wedding Venues
If you are planning to have an eco-friendly wedding, the first thing you should do is to pick a venue that sets the mood for your wedding. Sadly, many fancy hotels and resorts aren't the least bit earth friendly. They use too much electricity and water and too many cleaning products. The easiest way to have a green wedding is to pick an outdoor reception venue such as a botanical garden or a hillside. However, if you would like to be able to walk around in your white, high heeled wedding shoes without getting stuck in the lawn, a garden wedding may not be for you. Nonetheless, all is not lost. You could decide to have the ceremony and the reception at the same venue so that your guests aren't travelling from one venue to the next.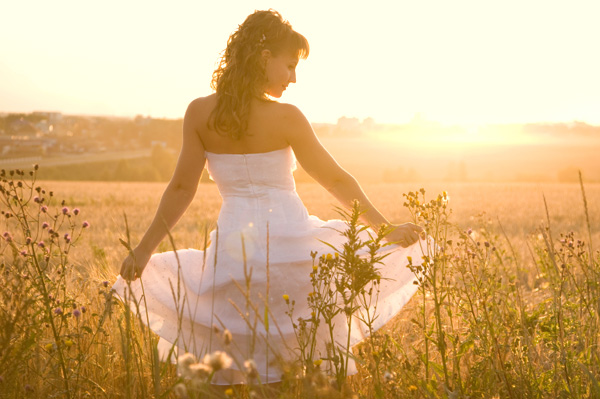 Eco-Friendly Wedding Dresses
Finding green wedding dresses can be a challenge because most dresses are made from tulles and satins. However, that doesn't mean it is impossible. Visit vintage clothing shops and check out the pre-worn wedding dresses. Alternatively, if you really want a new dress, find a designer who uses green fabrics such as organic cotton, bamboo, hemp and peace silk.
---
Eco-Friendly Wedding Invites
While some green wedding websites will suggest that you send out wedding invitation emails as opposed to paper invitations, we all know that isn't practical. Emails just don't feel formal. In addition, some of your older wedding guests may not have email addresses. Imagine asking your fiancée's great aunt to get an email address so that you can send her the wedding invitation. The good news is that there are lots of companies that offer recycled paper products and plantable (yes plantable) invites.
Sadly, most wedding favors usually end up in the trash. In fact, some wedding guests are rude enough to leave them behind. Therefore, why not give you wedding guests eco-friendly favors and garden wedding favors that will not hurt the environment even if they do decide to throw them out. If you are worried about not having too many options to choose from, you will be happy to know that the options are virtually endless. From bamboo photo frames and bamboo wood candles to plantable seed favors and eco drawstring bags, you are bound to find something that you like. Alternatively, if you cannot envision your wedding guests planting their favors, go for edible favors instead. Give your guests a lovely jar of jam or fresh honey.
---
Having a green wedding isn't so hard when you know what to look for. Just find wedding vendors who specialize in eco-friendly products and you are good to go.
Having an eco-friendly or garden wedding? Find the latest collection of garden wedding favors and plantable wedding favors with the help of Ashley Madison—the author of this article.
Technorati Tags:
Venues
,
Dresses
,
many
,
walk
,
made
,