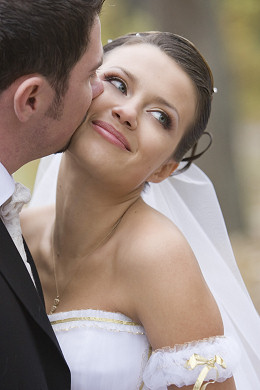 DIY Wedding Planning GuidePlanning a wedding is no easy feat. And while the rich and famous may be able to hire top-notch wedding planners who's fees cost more than your gown will, not everyone has this luxury. Also, not everyone wants it - some brides actually want to get their hands dirty and plan every detail of their wedding. Aside from keeping the reins tight, you'll be able to micro-manage the details and know exactly what you're getting for exactly what you're spending. As long as you have patience and negotiating skills, you shouldn't have a problem planning your perfect wedding day.
The Date and Venue
Before you do anything else, you'll need to set a wedding date and find both a ceremony venue and a reception hall. Until you have these checklist items squared away, you won't be able to send out save-the-date cards or invitations.
What to Wear
Choosing your bridal gown and accessories is a huge part of preparing for your wedding. But you'll also have to go with your groom to pick out his tuxedo and shoes. Plus, you have to decide what you want your bridal party to wear. The most common option is to have the groomsmen and Best Man rent their tuxedos, and for all of them to match. Typically, the Maid of Honor and the bridesmaids will all wear the same dresses. However, the easiest way to take care of the bridal party gowns is to choose a specific color from a dress shop and have your bridesmaids choose the style of dress that they feel most comfortable in. Don't forget about the gifts for your bridal party - the groomsmen typically get cufflinks or something else that they can wear on the wedding day and the bridesmaids will usually be given the jewelry for them to wear on your wedding day.
The Music
No wedding is complete without music. You can choose between a DJ and a live band - keep in mind that a live band won't have the same versatility as a DJ and they'll also be more expensive. You can also rent high-quality audio equipment and speakers and blast your own iPod mix during the wedding - just ask a trusted friend to keep an eye on the tunes throughout the night.
The Photographer / Videographer
You'll want a photographer and possibly even a videographer for your wedding day. Many professional businesses have both a photographer and a videographer on staff, so you don't have to go through two separate companies. Many photographers will bring along a second shooter to make sure that there isn't even one missed photo op.
Decorations
Florals - whether they're fresh or faux - are a huge part of wedding ceremonies and receptions. Flowers are used in the bride's bouquet, the bridesmaids' bouquets and also as centerpiece decorations. The best way to choose florals are to pick ones that are both in-season and local. If you order flowers that can't be found locally, you're bound to pay a ton of money for them.
Some reception halls will provide the table decorations while others will ask you to bring your own. Even a reception hall that provides the decorations themselves will allow you to bring your own if you want to. Table decorations include the centerpieces, linens, dishware and napkin holders. Also, guest favors are placed on the table as well - favors are easy to make yourself or they can ordered in bulk.
Once you have these items organized you'll be well on your way to planning your big day, all you'll need to remember to do is show up!
If you're planning a wedding, Stylish Weddings Melbourne can help you cut costs with their awesome range of affordable wedding accessories. They have items to beautify your wedding, reception and even a selection of classy honeymoon gifts.