England has long been a treasure trove for antique collectors throughout the world. Every year groups of visitors, Americans especially, arrive in areas such as the Cotswolds, in order to rummage about in quaint bric-a-brac shops and take home with them ornately designed potties, magnificant silver teaspoons and funny little tables with Queen Anne legs.

It would be impossible to fully explore English antiques and collectables in such a tiny space. However, I will endevour to cover just a miniscule selection of famous or unusual items - from a complete amateurs point of view, of course!
Many people do not realise that the highly popular Willow Pattern china came from the English county of Stafordshire, and not China. It probably began with Thomas Minton (1765 - 1836), who, in the 1780s, created a simple design of a Chinese scene depicting willow trees. The standard Willow Pattern didn't start to appear until the first decade of the 19th century - and is still produced today. There is a legend that the willow picture tells of a beautiful Chinese girl running away with her father's impoverished secretary, and they are being hotly persued by her furious father. Sadly, this tale has little to do with China, as it was invented in England some time during the 19th century.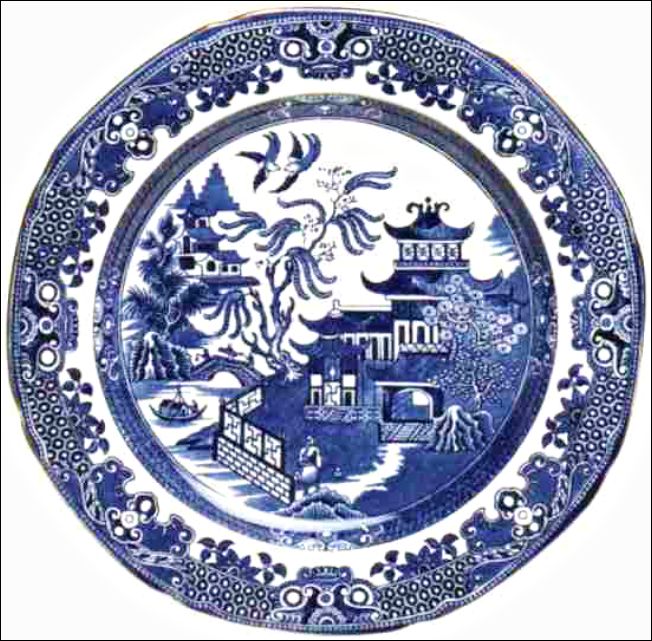 Although Sheraton furniture is known for its elegant design, it is likely that Thomas Sheraton, the man after whom it was named, may never have made a single piece of it himself. Sheraton, who was born in Stockton-on-Tees in 1751, was the son of a cabinetmaker, and he spent his formative years travelling about the country, working for his father. He arrived in London in about 1790, where he became a shopkeeper, drawing master and author. His wonderful designs were published in The Cabinetmaker's and Upholsterer's Drawing Book (published in four volumes between 1791 - 1794) and The Cabinet Directory (1803), and were copied by a great many admiring cabinetmakers. However, there is no evidence that Sheraton had a workshop in the capital city, or that he ever made even a single piece of the elegant furniture he created on paper. He died in poverty in 1806 - yet in the early 1980s, a set of six 19th century chairs, which followed Sheaton's original designs, fetched £8,000 at an auction.
The world's very first stick-on, prepaid stamps were used in Great Britain on 6th May, 1840. Only two denominations were printed: the penny black and the two-penny blue. As they were not intended for overseas use, neither stamp showed the name of the country on them - a tradition which continues to this very day.
As many of you know, hallmarking is the stamping of gold, silver and platinum (since 1975) objects with symbols showing their purity (18 carats etc.), the place at which they were tested, the date of assay and the 'sponsor'. There are three recognised English assay office marks: the leopard's head of Goldsmiths' Hall, London (the 'hall' from which hallmarking gets its name); the anchor of Birmingham; and the Tudor Rose of Sheffield. Objects dating between 1784 and 1890 usually carry an extra mark - the monarch's head, showing the tax which was levied on gold and silver during that period has been paid.
The ever popular Toby jug is believed to immortalise a Yorkshire drinker, Harry Elwes, who was said to have downed 16,000 pints (9,000 litres) of beer without stopping to eat. Admitedly, this is an unlikely tale, but when Elwes died in 1761, Staffordshire potter Ralph Wood, started making portrait jugs, which he named Toby Fillpot, said to be Elwes nickname. The original Toby jug was a fat old man seated on a chair, with a pint pot in his hand. These days there are quite literally hundreds of varieties with portraits of famous characters such as Admiral Nelson and Winston Churchill.
Samet Bilir writes about antiques and collectibles, book reviews, holiday shopping and a lot of other things, such as Sevres ceramics. To read more articles from him click this link.