If you are planning on a road trip you need to do it right. Research is key and everything needs to be arranged properly. After all this will be the holiday of a life time and you don't want to mess it up. I have put together a little list of some things to consider before you decide to set off and take to the open road
Deciding on Fellow Travelers
Make sure that the characters you are going with are characters that you actually get on with. Being trapped in a car with someone you don't like or that really irritates you will not be fun. Make sure you know actually what everyone wants out of the holiday. If you want to experience different things such as one person want culture and the other parties then the trip could turn to into hell. I recommend that you sit down and discuss what everyone wants out of the holiday and discuss key such as spends and accommodation before you go. Driving and stuck in a car can be testing for any relationship.
Planning the Route
Sometimes it's fun to wild and take the journey as it comes and just do whatever path you want. However, I would recommend selecting where you want to begin with off and where you want to end up. This gives your holiday a little concentrate and will be much less demanding on everyone involved. You want to plan so you get to see as much as the county as possible.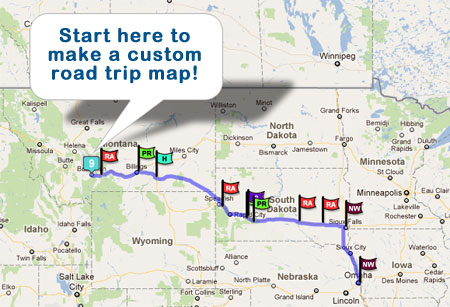 Deciding on Time restraints
Work out and plan how long you think your trip will take. This provides you with a little timeline of a plan and may help you keep on track and prevent you from getting lost. Use Google maps as they are a start and should offer you support and help you develop a strategy.
Keeping up with Maintenance
Make sure you get your car checked out and carry out a full service before you depart on your trip. Make sure it has enough oil, check the tire pressure. I think it's best to get it checked into a garage to get someone that knows what they're doing as preparing you vehicle before departure is essential. Join a vehicle repair company such as the AAA. If you hire a car then you know it will be completely road worthy and reliable. Learn how to carry out maintenance yourself such as oil flat tire changing skills as they could come in extremely handy.
Packing only what you need.
Make sure you only pack what you need as space is limited within the car. Essentials include:
Maps and directions
Driver's permit and confirmation of insurance
Chargers and additional energy for everything from mobiles and iPods, don't forget about the digital camera as they are a must.
Bring enough Money and then carry a little additional. You can always buy what you neglected to bring and need along the way if you have extra cash.
A deck of cards will always come in handy and give you hours of fun.
So it doesn't really matter where you're going. If you're researching about car hire Bangkok or buying a rundown motor from your uncle Tim, just remember to always play it safe.