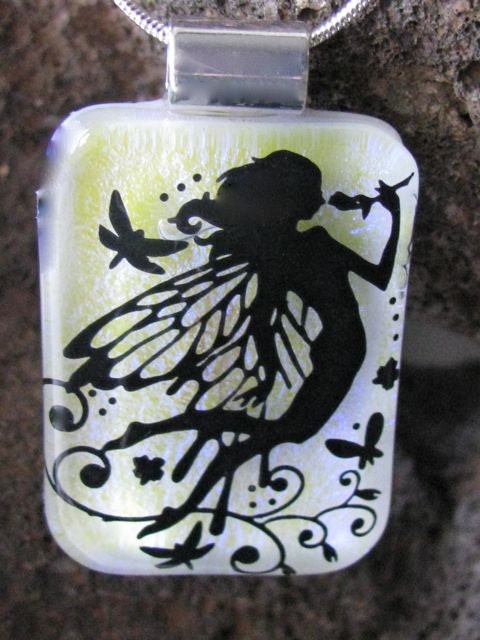 Anna M. Blair :
I'm a retired High School art teacher (and also taught at T.C.U. a few summers). I have several online shops, where I sell my fused glass jewelry and other items.
I enjoy all phases of art, but since I retired I enjoy doing glass work. I had a kiln for years that sat unused in the garage, and now it (and me) are fired up most of the time! :-)
I live in Fort Worth, Texas "Where the West Begins." We are just West of Dallas about 30 miles, but Fort Worth still has it's western flavor. There is an older area, original to the late 1800's, that offers ongoing rodeos, cattle drives, museums, and a feeling of the old West that Dallas doesn't have.
My two children are grown, and I live with my husband Noel, and our cat, Nemesis...plus a host of outside animals (raccoons,possums, an occasional deer) that I feed.
Your Shop Name Pendant Place
-Where are you originally from?
I was born in the U.S. (Pennsylvania), but moved to Texas as a child.
-How did you choose the lovely name for your Etsy Shop?
I chose "Pendant Place" because I thought it would be easy for people to remember.
-How did you find Etsy? How long have you been selling on Etsy?
I ran across Etsy when I was surfing the net. I've been selling there for at least two years.
-How would you describe your style? Have any other artists etc influenced your style?
I like representational art over abstract, so that is largely what I do. All artists influence my style. I look at all the art I can and adapt whatever would work for me into my jewelry.
- How did you first come to art and creativity? How did your journey in art and creativity begin?
When I won First Place for art in Kindergarten! It's been a long journey and fun all the way.
-How long have you been creating?
Over sixty years!
-What is it that you love so much?
Everything about it. I love watercolors, making pottery, using oils, making jewelry...just all of it.
-What are your main sources of inspiration?
An artist has to create. That's who they are and what they do. I give all the credit to God.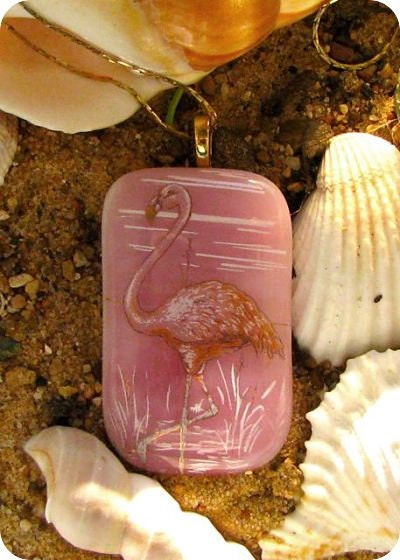 -Have you had any mentors, or are you self taught?
I have a degree in Art so I can't really say I'm self taught. I like to explore on my own.
-Do you sell more at one time of year than others?
In the Fall, as people get ready for Christmas.
-What is one thing about your creative process that you think most people don't know?
It's a lot of work! I had cut each piece, layer it with stained glass and dichroic glass, fire it to 1600 degrees, anneal it, check it for imperfections, fine tune it with my grinder, refire it to 1600 degrees, set it in the setting using jewelers glue, polish it with a rock tumbler...take photos, and finally post it on the website.
-How has life affected your art and art affected your life?
I can't imagine a life without art. It's part of the fiber of being.
-Do you have a favorite item you have made?
No, it's like trying to pick out which child you like best. They are all important at the time they are created.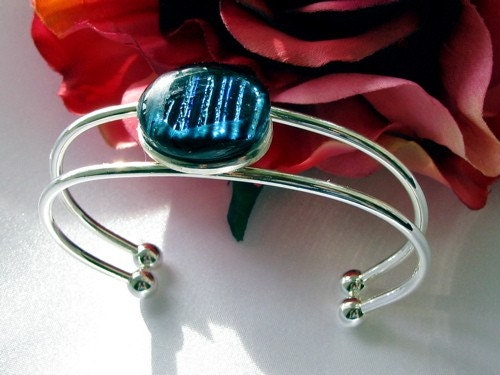 -What is the best reaction you have gotten from one of your pieces?
A personal phone call from a lovely lady who was raising her special needs great-grand daughter! She had asked me to make ten pendant necklaces to give each of the teachers who had worked with her mentally impaired great grand daughter, Lily. I made each a deep blue fused glass cross pendant with a lily on each one, and sterling chains. She cried when she received them and said they were so beautiful!
Something else who you want to tell us about you ?
I just enjoy what I do and love to share it with others.
-Your message for all of us?
Do what you enjoy. Embrace life and art, and share your experiences.