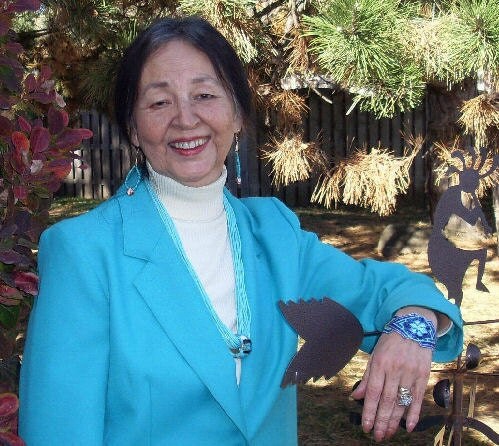 Joni Stinson, Creek-Cherokee, is a beadweaver, jewelry designer and silversmith.
She graduated from Oklahoma State University and did her dietetic internship at Baylor University Medical Center. She is a Registered and Licensed Dietitian and a Licensed Medical Nutrition Therapist. She is married to Dr. Warren Stinson. They have two sons and three grandchildren.
Joni is winding down her professional career to devote more time to her bead work and sharing her craft with others. She teaches beading at Blue Earth Intertribal. Joni was invited by the United States Department of Interior to participate in their National Park Service's "Artist in Residence" program. She sells her work at Pow Wows, Craft Shows, Galleries, and on-line.
Joni's designs combine traditional Native American techniques with contemporary elements, colors and materials. Her work is symbolic and exemplifies her passion for her Nation and her art. Joni is an enrolled/registered member of the Muscogee Creek Nation, a United States Recognized Tribe. Her work is made in accordance with the Native American Arts and Crafts Act. A Certificate of Authenticity is available for purchases upon request.
-Where are you originally from?
Checotah, Oklahoma....home of Carrie Underwood. Currently lives in Omaha, NE
-How did you choose the lovely name for your Shop?
I joined Etsy as a buyer and gave no thought to a name. A year later, I decided to sell and was stuck with it. By the time Etsy allowed for a name change, I felt it was out there and didn't want to change it. I did add a shop name of Ghi-Goo-ie Designs. Ghi-Goo-ie was my great great great great great Grandmother. She was also the Grandmother of the Cherokee Chief at the time of the Trail of Tears, John Ross. Ghi-Goo-ie translates from Cherokee to English as "sweet heart".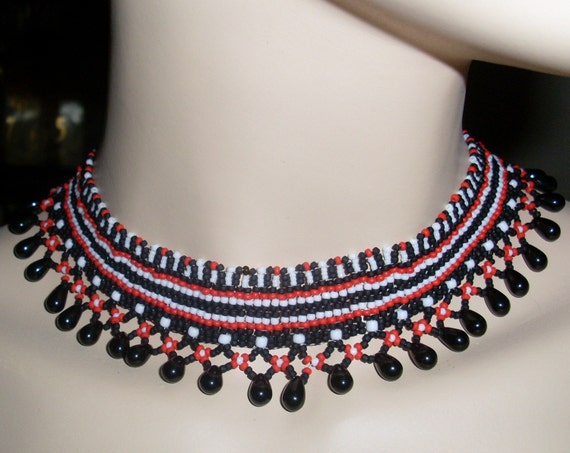 Do you sell your products in many places ? tell us some of them ?
I sell my products at regional Pow Wows and festival events. In addition, I have a store on ArtFire..
www.jstinson.artfire.com
I also sell my work on a Native American site...First People. The link is
www.firstpeople.us
Click on Native Art and then seed bead earrings.
I love selling on line but my first love is event sales. Nothing beats the ability to interact with the buyer in person.
-How did you find the site who you sell and who it this (name) ? How long have you been selling on this site ?I wanted to purchase a pattern for a bracelet from a local beader. She directed me to Etsy where she had the pattern listed for sale. I joined in 2007 to purchase that pattern. In 2008, I decided to give selling a shot and the rest is history. So, while I have been an Etsy member for 5 years, I have been selling there for 4 years.
I joined the ArtFire selling community in its very beginning as a lifetime charter member.
I began selling on Firstpeople.US about 2 years ago. I was invited by the webmaster for the site to sell there. I was honored and pleased to participate. It has been an excellent example of niche marketing for me.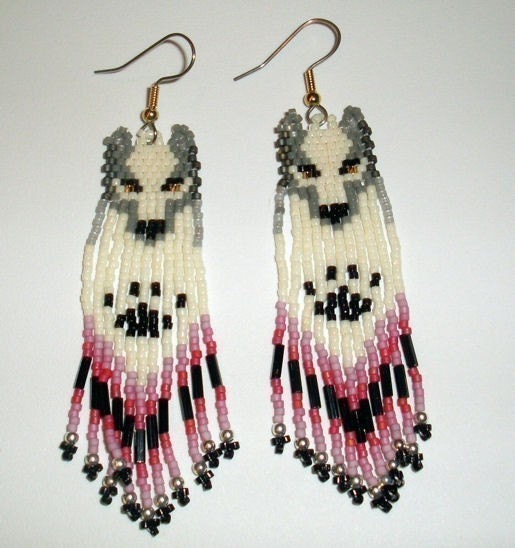 How has social networking helped your business? What have you found works best for your store? What is working for you to help promote your shop?
I regularly post on FaceBook, less often on Twitter and blog when I have something to say. Keeping my friends and fans aware of my newest or featured items is my plan for using these sites. I am pleased with the results so far but know I haven't used these sites to their fullest potential. I am planning to start Pininterest and/or Wanelo in the near future as well. I also participate daily in site forums.
-How would you describe your style? Have any other artists etc influenced your style?
I do traditional Native American work but often with a contemporary twist as regards color and materials. There are many wonderful beaders who have inspired me but my customers are the most influential in my work. The greatest thrill is to collaborate with them on custom designs that they see in their heads but can not bring to fruition. It pleases me to interpret their dreams in beads.
Specific beaders who have inspired me are Freida Bates, Margie Deeb, Mary Tafoya, Carol Wilcox Wells and Dan Pierce.
- How did you first come to art and creativity? How did your journey in art and creativity begin?
I have always been interested in creativity and arts. My Grandmother started me on my journey. To date I have yet to meet another who could inspire and motivate me as she did. She could do it all...sewing, painting, cooking.. crafting of all kinds. She always found time to mentor me though she worked full time and had a house to run. My journey began early and continues!
-How long have you been creating?
I have always created for as long as I can remember. But I began selling my creations in 2008 at the urging of Beulah Tamyo, a Rosebud Sioux friend. Prior to that, I created for my family, friends, and myself only.
-What would your dream job be?
I have my dream job. I continue to work professionally as a Consultant Dietitian in a Long Term Care Facility one day a week and bead 5-6 days per week. It doesn't get better than that at this point in my life.
-What is it that you love so much?
My creative work comes second to my family. I have a supportive husband, two wonderful sons and 3 great grandchldren. They keep me centered, motivated, and inspired.
What are a few of your favorite books, movies, musicians, and websites?
Favorite Books: Atlas Shrugged, The Fountain Head, Creek Mary's Blood, Costain's books, Black Elk Speaks.
Movies: The Help, Pretty Woman, Gone With The Wind, The Trail of Tears.
Musicians: Willie Nelson, Patsy Cline, George Strait
Websites: Blogs by my friends, Beadedimages.com, bead suppliers too numerous to mention
-What are your main sources of inspiration?
The art of my ancestors and nature are my main source of inspiration. I also attend Indian Market in Santa Fe annually in August. If one can't get inspired there, one can't get inspired any where! Unfortunately, I have more inspiration than time. I keep a sketch book with me at all times. I am forever jotting down notes and making sketches. I have enough sketches for a life time but continue to add more. I think that I must think I will live for 200 years.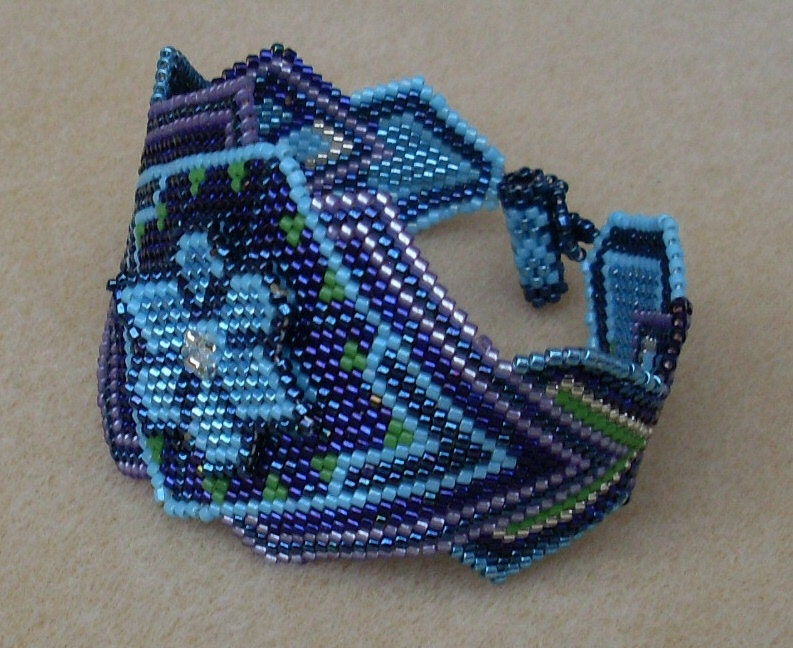 -Have you had any mentors, or are you self taught?
I am essentially self taught. However, I do belong to a beading club that meets monthly, subscribe to many jewelry making publications and see inspiration wherever I go. I am inspired by the work of others and challenged by my self and my friends.
-Do you sell more at one time of year than others?
My greatest selling period during the year is during the Pow Wow season. My son and I work these events together. We start in early April and finish in late September.
-What is one thing about your creative process that you think most people don't know?
Most people were not aware of my creative side when it came to making jewelry as I had allowed it lay dormant while I pursued my career as a dietitian and raised a family. They were surprised when I re-invented myself and rejuvenated my love for arts and crafts.
Have some tips and advices for new artisians ?
Make what you love. Try new things. Challenge yourself. Be curious and explore the possibilities. Don't give up. Don't let others discourage you.
Listen to your heart...it will guide you. Walk in balance and harmony.
-How has life affected your art and art affected your life?
My life has affected my art as I was born Native American and am proud of my culture. The art of my ancestors has affected my art through its beauty and timeless quality. Preserving, protecting and perpetuating Native American art is the driving force in my creativity.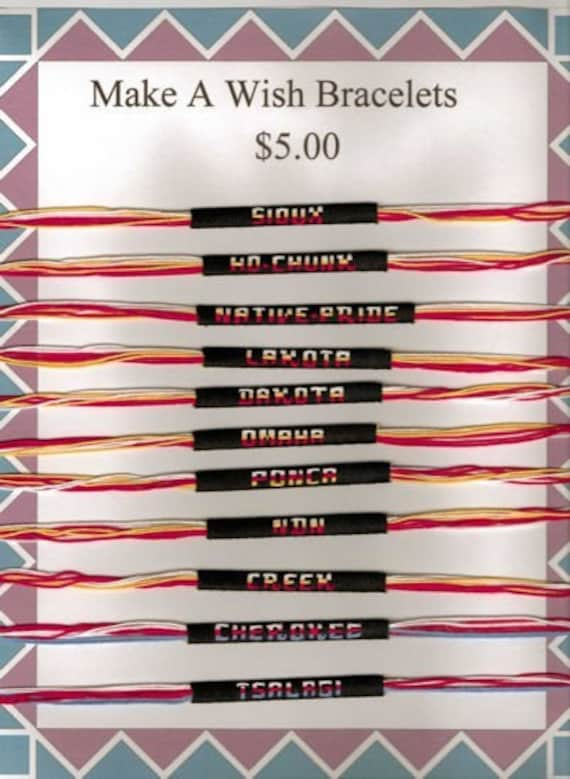 -Do you have a favorite item you have made?
That is sort of like asking if you have a favorite child! Each item that I make is my favorite for the moment. But if I have to name one, it would probably be the first split loom necklace that I ever made. It is the necklace that I am wearing in the "artist's photo" below.
-What is the best reaction you have gotten from one of your pieces?
The most memorable reaction was from the Baptist minister who was officiating at my brother's "Wiping of Tears" ceremony last summer.
I was wearing that floral split loom necklace and he said, "Wow, be careful...that necklace is so beautiful I might just steal it!"...I had never heard a minister admit to the desire to steal and said so. We all had a good laugh at a time when laughter was needed.
-Your message for all of us?
Don't become discouraged if you aren't an immediate success selling online. Establishing a following on-line is difficult and takes time. Find your niche and fill it. Research, promote, and create. The time will be well spent and hopefully rewarded.